By Cadence Quaranta and Emmanuel Kizito
The phone calls started pouring into a hotline operated by the nonprofit Florida Immigrant Coalition in 2019. 
Florida Gov. Ron DeSantis (R) had just signed a new law, similar to those passed in Texas, Arizona and other states, that required local law enforcement agencies to cooperate with U.S. Immigration and Customs Enforcement, despite so-called sanctuary policies that limit interaction with federal agents.
The number of calls to the coalition's hotline soared from about 100 a month in 2018 to 1,000 a month after the law passed, said Laura Muñoz, the group's director of services. Many callers were victims of crime or domestic violence who were afraid to seek help from police, Muñoz said. Others needed guidance after encounters with law enforcement.
Their stories did not surprise the coalition and other immigration watchdog groups, which sued the state alleging that the law discriminates against undocumented immigrants.
In September, a federal judge struck down significant portions of the law, saying in a ruling that the statute was "racially motivated." Judge Beth Bloom said the state's claim that the law was designed primarily as a public safety measure was unsupported by crime statistics. She also noted the involvement of what she described as anti-immigrant hate groups in drafting the contentious statute.
State Sen. Joe Gruters, chairman of the Florida Republican Party, told Reuters after the decision, "I look forward to this ruling being overturned."
The state has appealed to the 11th U.S. Circuit Court of Appeals.
The ruling did not appear to deter DeSantis, who has said he plans to expand the anti-sanctuary policies established in the 2019 law. DeSantis has defended the law as being about "public safety, not about politics." 
Local watchdog groups say the law had sweeping implications. 
At the Hope CommUnity Center, a group serving immigrants and the working poor in Apopka, Fla., about 20 miles northwest of Orlando, immigrants told staff members that relatives had been detained and moved into federal custody. They needed help finding lawyers, finding family members, finding answers. 
Laura Pichardo-Cruz, the center's executive director, said with former President Trump in the White House and DeSantis as governor, it was "a really terrible time to be an immigrant in America. 
"In Florida, it is doubled because we had a really unfriendly federal government and then a very unfriendly state administration," she said.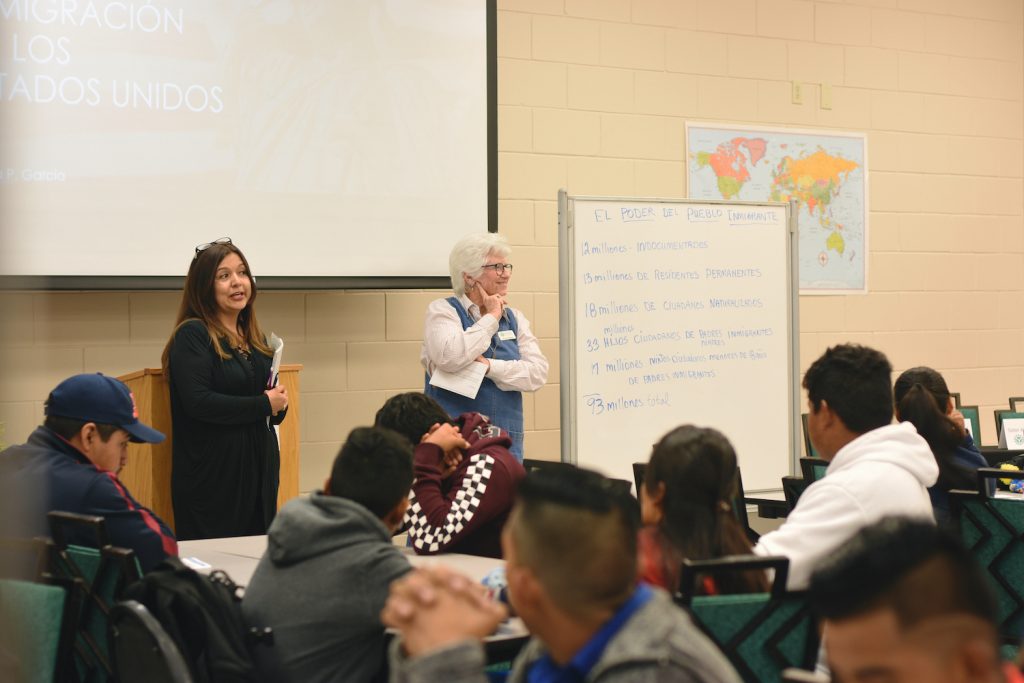 Some Florida law enforcement agents moved quickly after the law was passed. 
Eight counties detained a total of more than 200 people in fewer than two years — nearly a quarter for traffic violations and most for nonviolent crimes, according to Allan Lichtman, an American University history professor who served as an expert witness on behalf of the plaintiffs in the lawsuit.
"For a lot of people, it felt like law enforcement was being given permission to target them," said Nezahualcoyotl "Neza" Xiuhtecutli, general coordinator of the Farmworkers Association of Florida, a statewide nonprofit representing workers of color. "The end effect was that it made immigrant communities live in fear."
In Apopka, Pichardo-Cruz said immigrants have reported an increased police presence in some neighborhoods with high immigrant populations.
"We know that local law enforcement is aware of where immigrants shop, where they live, where they work, the roads they take to work," Pichardo-Cruz said.
In recent years, ICE has increased its presence in Florida in other ways.
In 2019, Pinellas County Sheriff Bob Gualtieri helped promote the Warrant Service Officer (WSO) program, which allows local law enforcement officers to serve ICE warrants to people in jails. The first WSO agreement was launched in Pinellas County about a month before DeSantis signed the anti-sanctuary bill.
Gualtieri has argued that the WSO program will help deputies fulfill the requirements laid out in the new law.
More than 40 Florida counties currently participate in the WSO program, which has spread to Wisconsin, North Carolina and other states.
The WSO program is voluntary. The law signed by DeSantis, however, mandates all local law enforcement to cooperate with ICE even if local officials oppose the idea.
Madison Muller contributed to this report.